Tell us if you need information for special topics.
A) 

NEW:

E-Book "The German CV / Resume / Lebenslauf"
How Foreign Professionals, Managers And Graduates Get Well-Payed Top-Jobs And Make Career In German Companies (26 pages)
How many CVs did you send to companies in Germany (although your profession is wanted)? How long are you waiting for response? We guess: Weeks and months. And often you get no response at all. Correct?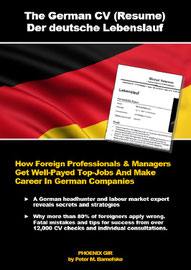 After thousands of CV checks, daily consultations of German and foreign professionals and after daily contacts with recruiters from German companies we can say for sure: CVs in Germany are written, designed and psychological (=strategically) different from CVs in your home-country or (other) European countries, Asia, America or Africa.
In our new CV-eBook (in English, 26 pages) about the German CV (Lebenslauf) you will find:
Why more than 80% of foreigners & migrants apply wrong.
A German headhunter and labour market expert reveals secrets & strategies.
Fatal mistakes & tips for success from over 12,000 CV checks and individual consultations.
o    About The Author
o    The German Job Application
o    List Of Main Mistakes Foreigners & Migrants Make
o    6 Things You Can't Hide From Us In Your CV
o    Why 80 – 90% Of All Foreign Applications Get  
      Deleted At Once …
o    The 10 Second Screening: Will Your CV Survive?
o    From Pain & Strategy
o    What Is The Best CV Format? Functional, Chrono-
      logical Or Combined?
o    CV Dos And Don'ts
o    The Europass CV Model
o    Final Check Of Your CV
o    Your Online Personal Brand
o    Still No Response? Stay Cool!

o    CV-Example Of An Engineer / Manager
       A.  The Header
       B.  The CV Title
       C.  The Photo – Sympathy At First Glance
       D.  Personal Information
       E.  Your Personal/Branding Statement / 
             Summary / Short Profile / Headline
       F.   Employment & Career History
       G.  The German C3-CV-Strategy: How To Write
             Effective CVs For Different Jobs
       H.  Studies & Vocational Trainings
       J.   Further Trainings & Qualifications
       K.  Special Knowledge & Interests
o    CV-Example Of A Software-Developer (German)
Here you find CV examples of candidates from different professions and sectors (each usually 2-3 pages )
Here you find helpful articles about important topics for your job search in Germany. Many of them have several pages.
How to order your E-Books, Templates and Articles: